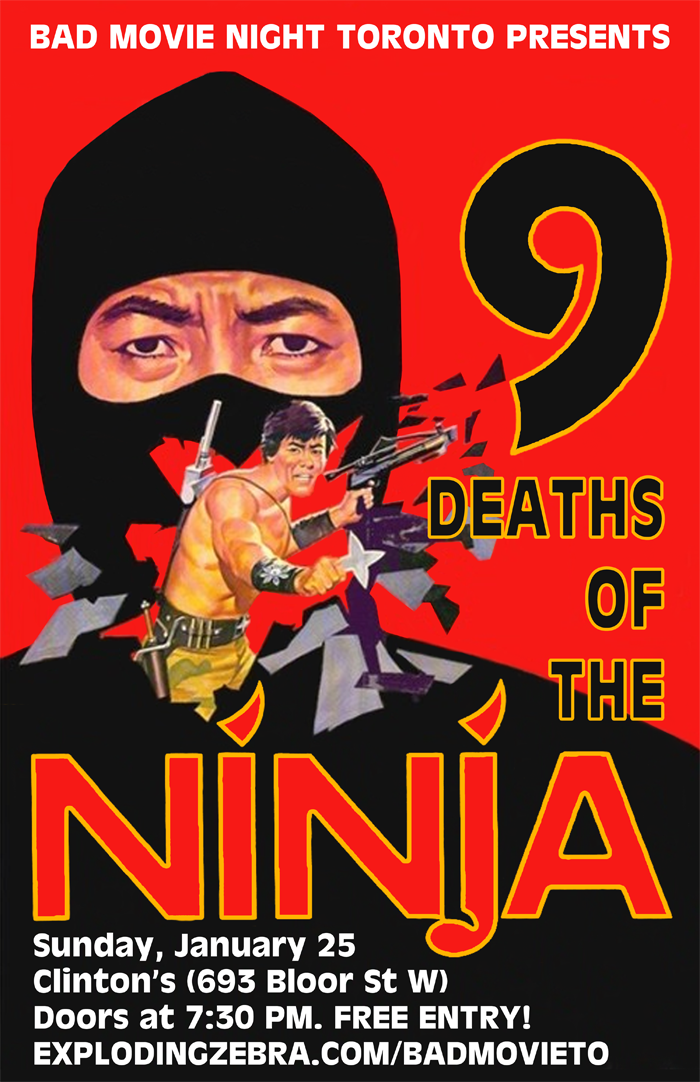 RSVP on facebook
9 Deaths of the Ninja
When: Sunday, Jan 25 2015 @ 7:30 PM
Where: Clinton's (693 Bloor St W)
Admission: FREE


When a group of drug runners (led by a poor man's Dr. Strangelove with a pet monkey) have one of their cronies locked up, they kidnap a bus of US tourists in the Philippines and demand their friend be released. Enter Spike Shinobi, a lollipop-obsessed ninja (?!) played by Sho Kosugi, who must gather together his crisis response team and stop the terrorists before the executions can start. It won't be easy though - in order to save the day, Spike will have to beat up a gang of little people, kick ass in an old man disguise, and confront the wheelchair-bound villain at an event fraught with immense excitement and danger - a polo game.

9 DEATHS OF THE NINJA mixes shitty martial arts action with an almost incoherent plot that feels ripped from a James Bond abortion (and we're talking about "Moonraker" levels of wackiness here). 9 DEATHS will keep you on the edge of your seat, asking questions like, "Was that supposed to be a joke?" and "Who on earth thought this was a good idea?!"

* * * * *

Doors at 7:30. Movie at 8.
FREE. 19+ event.