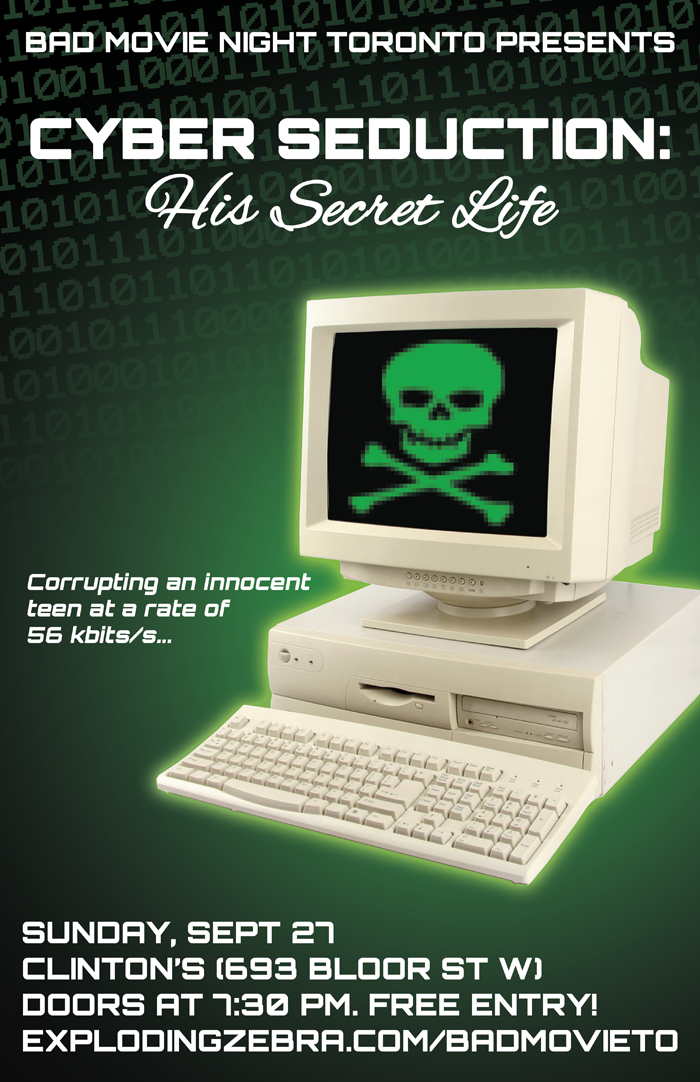 RSVP on facebook
Cyber Seduction: His Secret Life
When: Sunday, Sep 27 2015 @ 7:30 PM
Where: Clinton's (693 Bloor St W)
Admission: FREE


We've featured all sorts of bad movies in the past, but somehow, we've never delved into the uniquely terrible world of the Lifetime made-for-tv movie - where all your mother's fears and anxieties are made terrifyingly real. Let's remedy this oversight with CYBER SEDUCTION: HIS SECRET LIFE.

Justin Petersen is a high school student that has it all: he's got a devoted Christian girlfriend, a loving family, and he just made the All-State competitive swim team. (Way to go, kid!) But everything is put at risk when Justin is introduced to the salacious side of the internet - which, since this is Lifetime, is never more risque than the underwear section of a Sears catalogue - and quickly becomes addicted. It's up to his mother to step in and save her beautiful boy's life - if only she can figure out how this danged interweb thing works in the first place. Technology, right?

Starring Jeremy Sumpter (PETER PAN) and Kelly Lynch (ROADHOUSE), this flick follows the time-honoured Lifetime tradition of casting actors that you recognize who apparently needed a quick paycheque.

* * * * *

Doors at 7:30. Movie at 8.
FREE. 19+ event.