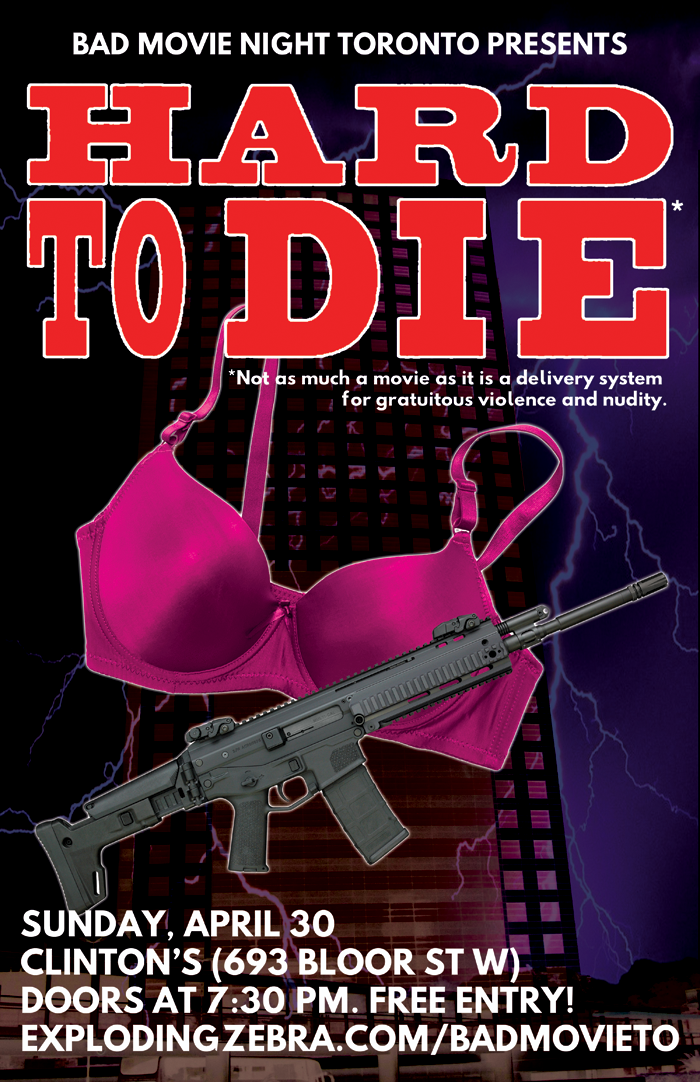 RSVP on facebook
Hard to Die
When: Sunday, Apr 30 2017 @ 7:30 PM
Where: Clinton's (693 Bloor St W)
Admission: FREE


HARD TO DIE aka SORORITY MASSACRE aka TOWER OF TERROR is the dictionary definition of gratuitous. There is violence, there is nudity, and every other aspect of the film serves the sole purpose of providing more violence and more nudity.

The movie focuses on the female staff of Acme Lingerie as they come in one weekend to perform an inventory of the store's merchandise. Things go well enough until a mysterious package is delivered and its contents seem to release a supernatural energy into the building. Then people start dying, the women stumble upon a cache of automatic weapons, and you end up with a bunch of blood-drenched ladies dressed in skimpy lingerie shooting a near-infinite amount of bullets everywhere.

Well-written dialogue? Character development? These are alien concepts to HARD TO DIE. And in that complete disregard for the standard foundations of quality filmmaking, one finds the wonderful hilarity of this trashy flick.

Plus, for any Bad Movie Night veterans out there, this movie is directed by Jim Wynorski (CHOPPING MALL) and stars Melissa Moore (SAMURAI COP).

* * * * *

Doors at 7:30. Movie at 8.
FREE. 19+ event.