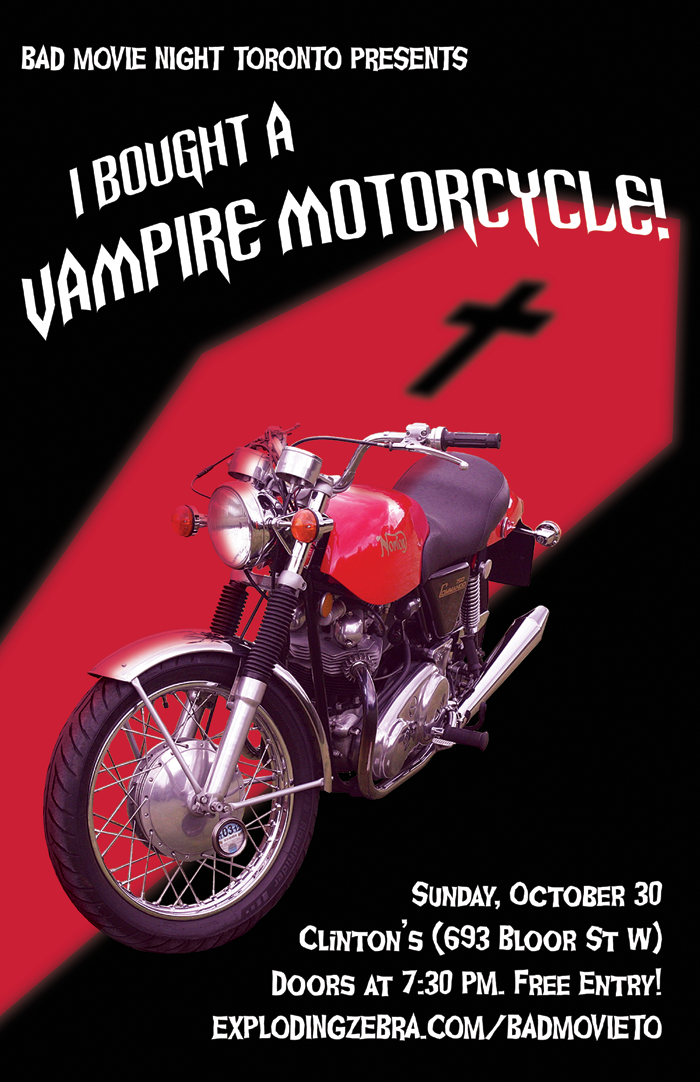 RSVP on facebook
I Bought A Vampire Motorcycle
When: Sunday, Oct 30 2016 @ 7:30 PM
Where: Clinton's (693 Bloor St W)
Admission: FREE


Used motorcycle for sale. Good condition. Previous owner died. Gets 38 km/litre... of BLOOD!

When a motorcycle gang interrupts a Satanic cult's ritual, the resulting chaos and violence produce an unholy hybrid of evil: a vampire motorcycle! Poor, unsuspecting Noddy has no idea what he's getting himself into when he buys the bike from a dealer the next day, but as the monstrous machine goes on a killing spree to sate its bloodlust, he quickly comes to realize it's the worst purchase he's ever made. Only with the help of a local Catholic priest - played by none other than C-3PO (Anthony Daniels) - will Noddy have any chance of putting a stop to this Bike from Hell.

I Bought A Vampire Motorcycle is a thoroughly bizarre British flick featuring an obligatory amount of gore, lots of uncouth hooligan antics, and - most surprisingly - a talking piece of poop. You're not misreading that last part, it's actually in the movie. Yeah. I don't know either.

* * * * *

Doors at 7:30. Movie at 8.
FREE. 19+ event.