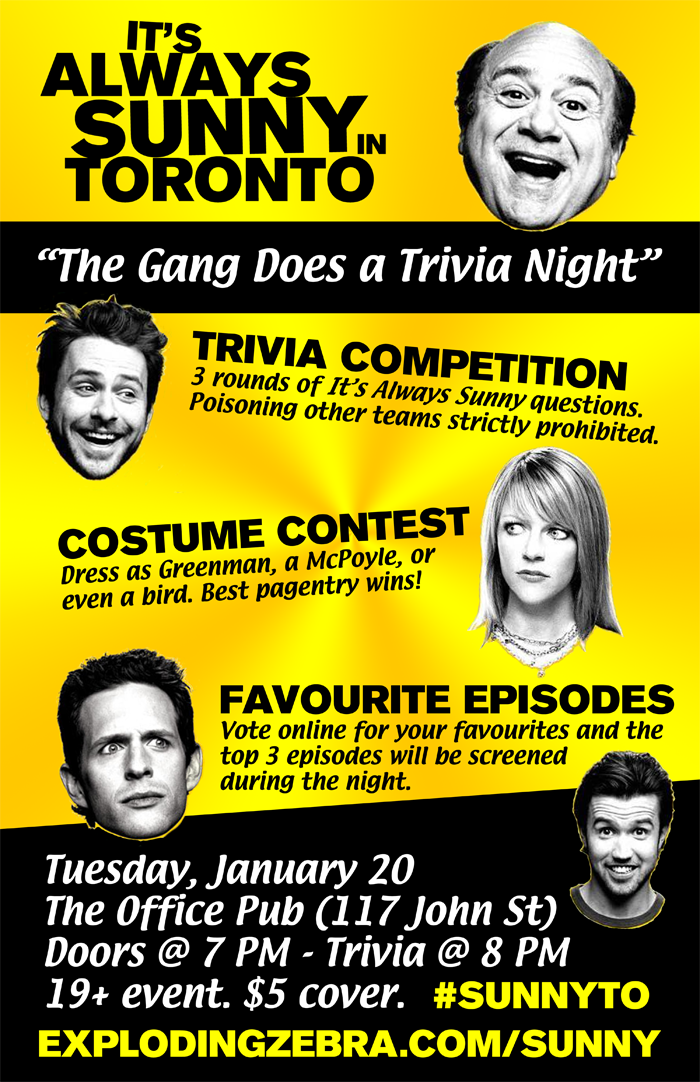 RSVP on facebook
It's Always Sunny in Toronto
When: Tuesday, Jan 20 2015 @ 7:00 PM
Where: The Office Pub (117 John St)
Admission: $5


Hey-o, what's up bitches!

Have you mastered Chardee MacDennis and need a new challenge to sink your teeth into (like a succulent milksteak, so rich and chewy)? Then drop your dick towel and get ready, because on Jan 20th, we're running the best damn trivia night devoted to It's Always Sunny in Philadelphia that this city had ever seen.

The night's festivities will include...

VIDEO TRIVIA COMPETITION
3 rounds of questions that will test your body, mind, and spirit. Poisoning other teams is strictly prohibited!
CLICK HERE FOR THE FULL RULES

FAVOURITE EPISODES
Vote on your favourite Sunny episodes and the top 3 will be played over the course of the evening.
CLICK HERE TO VOTE

COSTUME CONTEST
Come out as Green Man, a McPoyle, or even a bird. Best pageantry wins a prize!

Doors at 7 PM - Trivia starts at 8 PM.
Cover is $5. 19+ event.