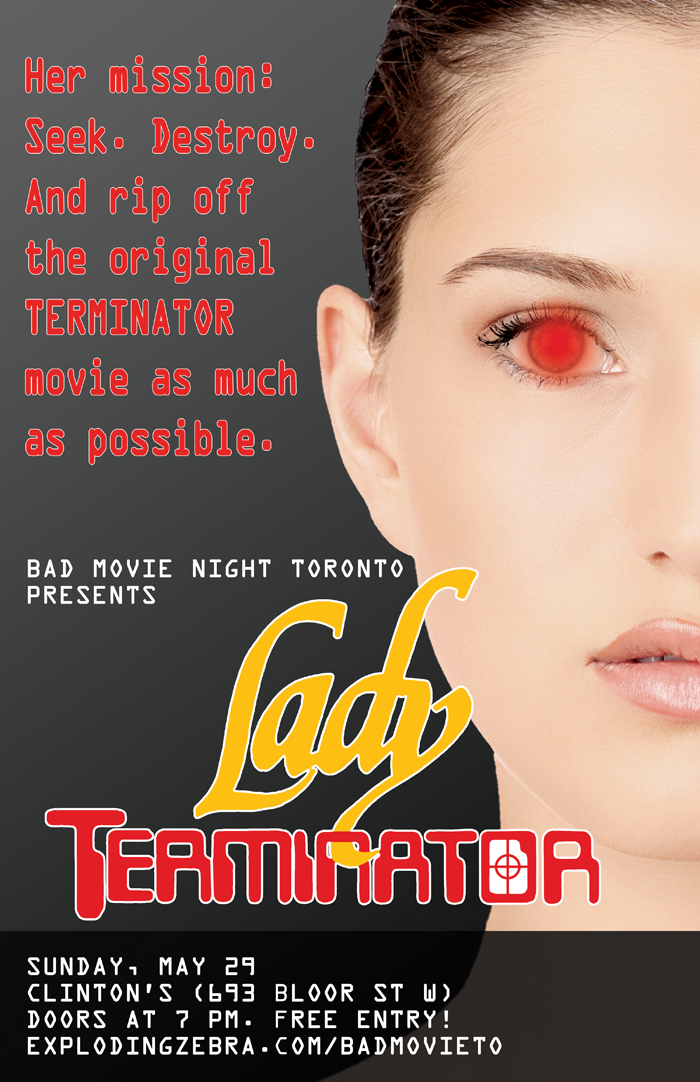 RSVP on facebook
Lady Terminator
When: Sunday, May 29 2016 @ 7:30 PM
Where: Clinton's (693 Bloor St W)
Admission: FREE


Many years ago, an evil queen was betrayed by a lover and her immortal soul was banished to the bottom of the sea for a hundred years. Cut to the modern day, and by "modern day", we're talking the 1980s, where a mild-mannered anthropology student goes on a scuba expedition that ends in disaster as her body is possessed by the spirit of that selfsame queen. Whoops! Now it's time for her to suit up in some leather and hunt down the granddaughter of the man who betrayed her, all the while killing anyone and EVERYONE that gets in her way (or is even just nearby).

If you're wondering why this film is called LADY TERMINATOR when its synopsis seems to have nothing in common with the James Cameron classic, don't worry, it's a glorious rip-off through-and-through! Despite the mystical setup for its nonsensical plot, this flick tries hard to check off as many Terminator boxes possible: it's got your naked assassin killing for clothes, the red-tinted Terminator vision, and yes, someone says "Come with me if you want to live!" - because if you're going to steal from a movie, you might as well be absolutely shameless about it.

Don't miss out on this insanely entertaining Indonesian schlock-fest!

* * * * *

Doors at 7:30. Movie at 8.
FREE. 19+ event.