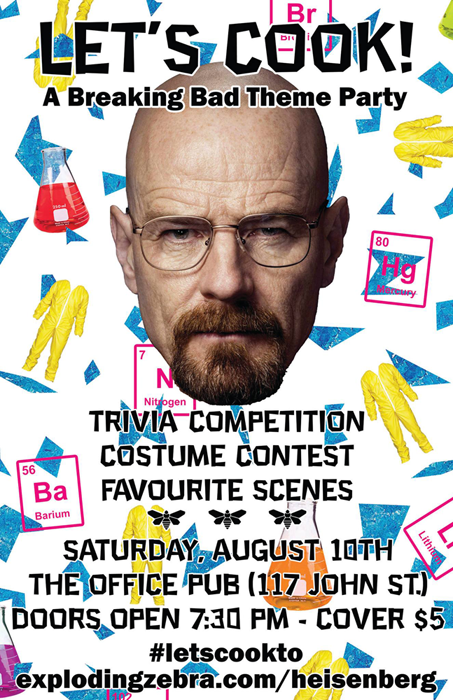 RSVP on facebook
Let's Cook! A Breaking Bad Party
When: Saturday, Aug 10 2013 @ 7:30 PM
Where: The Office Pub (117 John St)
Admission: $5


What's that? A Break Bad theme party?

YOU'RE GODDAMN RIGHT.

To celebrate the return of Breaking Bad this summer, we're going all out and taking over the The Office Pub in tribute of this glorious show. Excited? You should be, yeah! More excited than Walt Jr. is for breakfast!

This very special evening will feature...

TRIVIA COMPETITION
Knowledge and prizes, bitch!

COSTUME CONTEST
Dress as the fly! Wear every purple clothing item you have! Zip up your hazmat suit and strap on your gas mask - it's going to be a wild ride!

FAVOURITE SCENES
Between trivia rounds, we're watching a compilation of the the best moments from the series! Did someone say train heist? I did! Right now!

Don't miss out - this is one party that's really going to mineral!