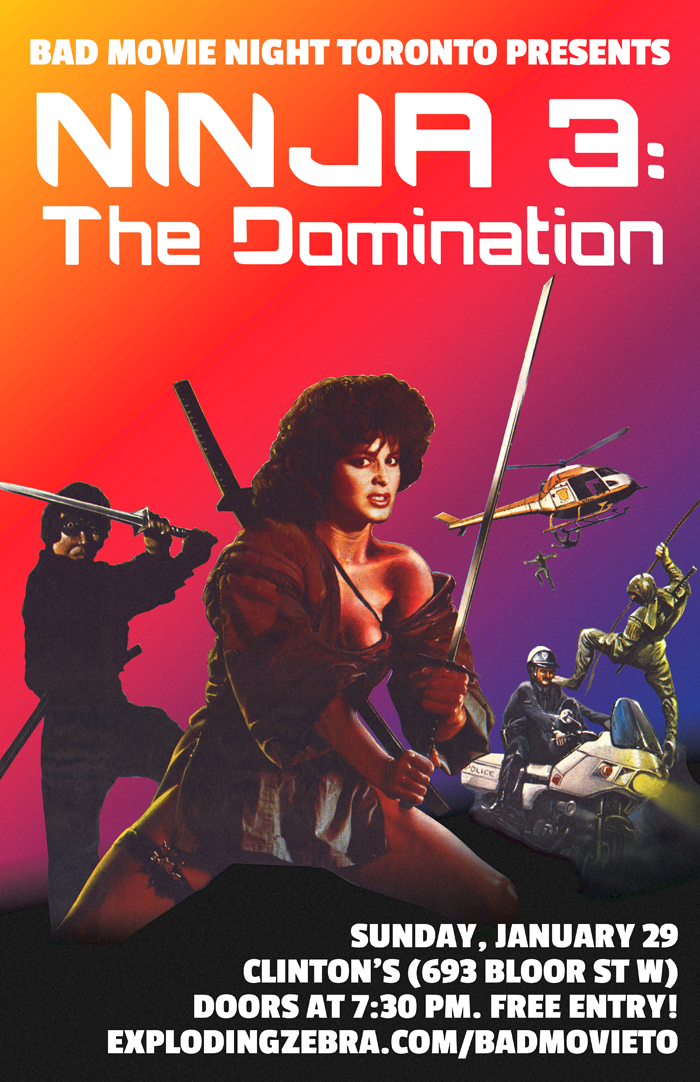 RSVP on facebook
Ninja 3: The Domination
When: Sunday, Jan 29 2017 @ 7:30 PM
Where: Clinton's (693 Bloor St W)
Admission: FREE


After an assassination on a golf course, a powerful ninja is subdued by the police and shot to smithereens. In his dying moments, the warrior stumbles upon a young aerobic instructor named Christie and possesses her body with his spirit. Now, in between sweat-and-spandex-filled fitness classes, Christie is forced to hunt down the cops responsible for the ninja's demise, and pick them off one-by-one using her newly acquired martial arts abilities.

NINJA 3: THE DOMINATION combines everything you love about ninjas and 80s workout videos into a wonderfully cheesy, action-packed flick. That being said, this shouldn't be too much of a surprise given that it stars Lucina Dickey (BREAKIN' 2: ELECTRIC BOOGALOO) and martial art master Sho Kosugi (NINE DEATHS OF THE NINJA).

* * * * *

Doors at 7:30. Movie at 8.
FREE. 19+ event.