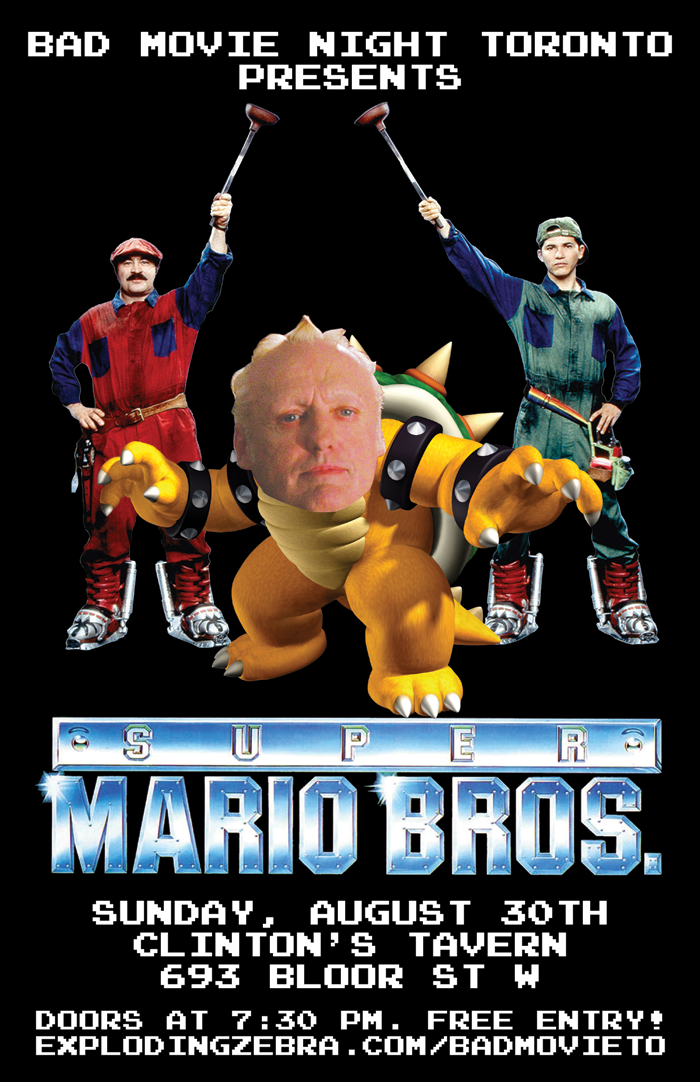 RSVP on facebook
Super Mario Bros
When: Sunday, Aug 30 2015 @ 7:30 PM
Where: Clinton's (693 Bloor St W)
Admission: FREE


Bob Hoskins! John Leguizamo! Dennis Hopper! Would you watch a movie based on the combined star power of those three names alone? Congratulations, you've just agreed to watch SUPER MARIO BROS - and, oh, how you will regret that decision!

It's time to pay tribute to terrible video game adaptations with one of the most bizarre and misguided examples ever made. And when I say "adaptation", in this case, it's the loosest definition possible. You know the Mushroom Kingdom? Well, what if the Mushroom Kingdom was actually Dinohattan, a dystopian metropolis found in a parallel universe that was created when the meteor that killed the dinosaurs hit Earth! You think it's fun when Mario wears a tanooki suit and gains awesome new powers? Then you'll love it when he puts on a leisure suit and gains the power to hit on a woman in a weird fetish nightclub! And King Koopa... wouldn't he be a real badass if he was played by Dennis Hopper with gelled blonde hair? Of course he would! Yes, when watching SUPER MARIO BROS, you'll swear that you've had a few too many mushrooms yourself.

PLUS: After the movie, we're going to break out an N64 to let the audience take turns playing through the grueling misery that is Superman 64.

* * * * *

Doors at 7:30. Movie at 8.
FREE. 19+ event.