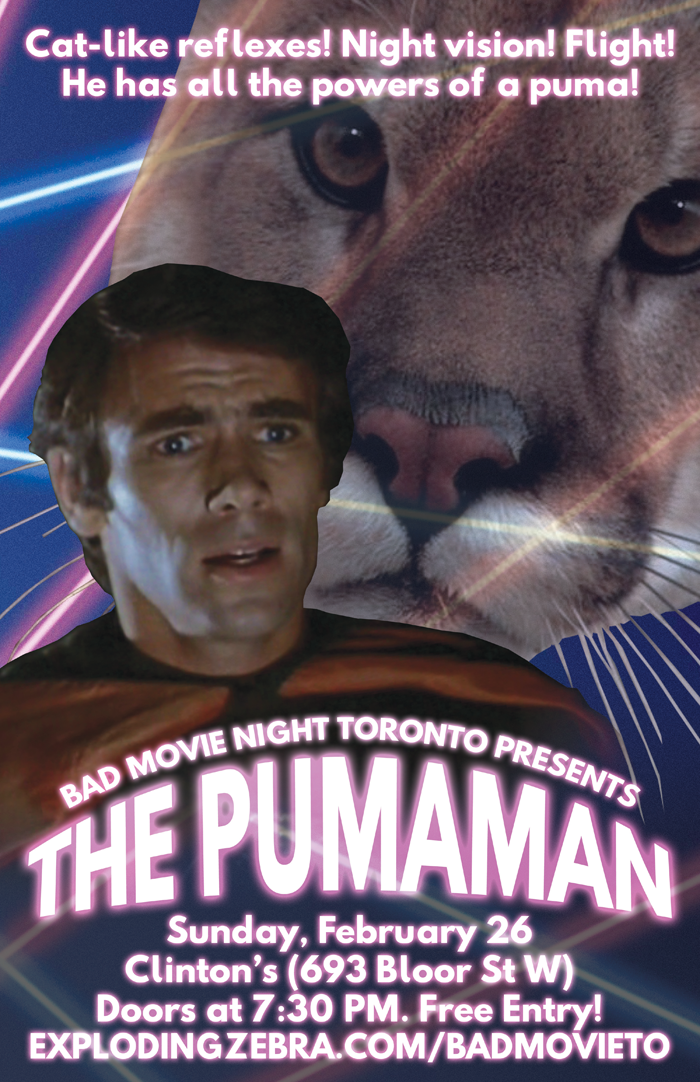 RSVP on facebook
The Pumaman
When: Sunday, Feb 26 2017 @ 7:30 PM
Where: Clinton's (693 Bloor St W)
Admission: FREE


Cat-like reflexes! Night vision! Flight! He has all the powers of a puma! He's... the PUMAMAN.

Thousands of years ago, an alien spaceship visted the Aztecs to do two things: 1) breed with the human populace to produce a man with all the powers of a puma and 2) drop off a golden mask that can control the minds of others. I guess the first one is alright (if kinda weird), but that second action seems downright irresponsible - it's a powerful artifact that is pretty much guaranteed to be used for nefarious purposes. And sure enough, fast forward to the late 20th century, where a mad scientist named Dr. Kobras (!) finds the mask and decides to take over the world with it.

Now it's up to the sole descendent of the original Pumaman to save the day, but he's a mild-mannered paleontologist who doesn't even want to continue the Pumaman dynasty! Only with the help of a knowledgeable Aztec guide will he realize that with great puma powers comes great puma responsibilities. Puma!

Come and watch this silly Italian superhero spectacle with us on Sunday, Feb 26. There's definitely no other important cinematic events happening on that night!

* * * * *

Doors at 7:30. Movie at 8.
FREE. 19+ event.