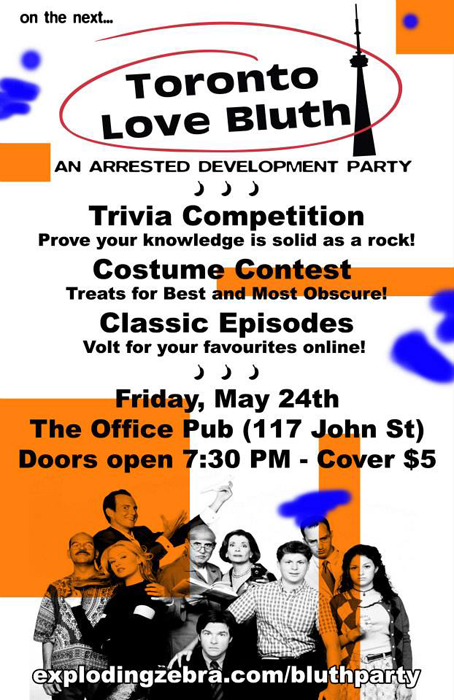 RSVP on facebook
Toronto Love Bluth - An Arrested Development Party
When: Friday, May 24 2013 @ 8:00 PM
Where: The Office Pub (117 John St)
Admission: $5


Mount Up Pard'ners!

Season 4 is approaching and it's time to celebrate all things Bluth!

Sure, you could just spend another lonely evening at home flipping through the latest issue of Bumpaddle Magazine - but wouldn't you rather be out socializing with your fellow Never Nudes? Like an intervention for Lucille, it's bound to be one of the best Bluth parties ever!

This very special evening will feature...

TRIVIA COMPETITION
Prove your AD knowledge is solid as a rock and you could win a SEGWAY TOUR of the Distillery District for your entire team!
See rules and regulations @ www.explodingzebra.com/bluthparty

COSTUME CONTEST
Prizes for Best and Most Obscure!

FAVOURITE EPISODES
The top 3 episodes voted by you will be screened for the enjoyment of all!
Vote @ www.explodingzebra.com/bluthvote

LATE NIGHT DANCE FLOOR
Show us your moves, you discipline daddy/mommy!

Many thanks to the fine folks down at Segway of Ontario. www.segwayofontario.com

STEVE HOLT!